I am very proud of the Scrap Yard scene on my layout. Visitors always comment on the a pile of tires stacked up in the yard.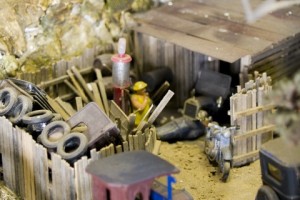 Here's how I made it. A went to a local auto parts shop and bought a short length of the small diameter water hose (very cheap to buy). I cut it into thin slices based on my scale and painted them a dark greyish black and added some specks of mud color. When dry I stacked and glued them in place.
Add your suggestion or comment by clicking on the BLUE title above.