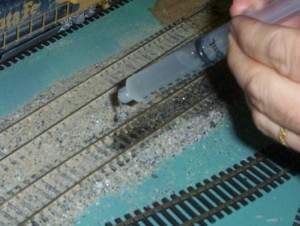 Ballasting Track can be quite tricky and it takes at most patience and effort to get it looking right. Ballast is laid between the tracks and sometimes on the sidings of the sleepers such that one can in a realistic effect there are different techniques for laying down Ballasting Track.
If you are using cork it is important that you stand the edges of the slope first so that the smaller stones will obey better. Use almost 70% isopropyl alcohol spray as the wetting agent instead of plain water.
With the help of an eyedropper you can do a better job and avoid spraying on the scenery. To soak the Ballasting components use a mixture of white glue and alcohol in 50-50 proportion. These tips will help you do your job perfectly.